Oct 4th, 2022
8 Youth Organizations to Volunteer For
Support the next generation of leaders.
There are many different types of youth nonprofits, but most typically focus their initiatives on one or more of the following categories:

Education: access to educational resources and opportunities
Leadership development
Employment and career readiness
Arts and culture
Environmentalism
Health and wellness, laying a foundation for future health outcomes
Youth political advocacy and empowerment, breaking down historical barriers
Nonprofits focused on these categories and positive youth development often provide opportunities and activities for young people to get involved in their community, learn new academic or professional skills, and make new friends. Other youth nonprofits' involvement center around helping young people deal with issues like mental health, bullying, substance abuse, and teenage pregnancy, particularly for at-risk youth from underserved communities.

There are a wide variety of youth organizations to join. You can support youth organizations and young people by volunteering with Catchafire. Catchafire's platform connects talented, highly-skilled volunteer professionals with nonprofits to help them achieve their missions. Volunteering with Catchafire is a great way to gain skills and experience, make new connections, and help make a difference in your community. There are a variety of volunteer opportunities available (one hour consultation calls or longer-term projects), so you can find one that's a good fit for your skills, interests, and availability.
8 Youth Organizations to Amplify and Support
There are a number of challenges that youth organizations face. These can include but are not limited to funding, attracting and retaining members, and developing programs that are both engaging and meaningful for young people. One of the biggest challenges that youth organizations face is funding. This can be difficult to obtain and often requires a lot of fundraising.

Without proper funding, these organizations can't afford to maintain their programs or facilities, hire staff, or provide much-needed services to their members. Youth organizations often have to work with limited resources, which can make it difficult to provide the best possible services to their members.

That's why volunteer support is so critical; it provides capacity and project support for overextended nonprofit staff trying to sustain and expand programming for youth in their communities.

Volunteering with youth organizations can be a great way to make a difference in the lives and empowerment of young people, and to help them develop into responsible adults. There are many different youth organizations that you can volunteer for, and each one has its own unique mission and purpose.

What are some of the youth organizations to join and volunteer for? Here are eight youth organizations you can volunteer for by signing up on Catchafire. When you do, you make a direct, positive impact on the next generation and the leaders of tomorrow.
---
CuraJOY partners with psychologists, educators, parents, and kids in the United States and Asia to develop interactive digital programs and games designed to build self-confidence, social-emotional skills, and personal growth. Their digital programming is available in English, Spanish, and Mandarin. Through these resources, young people are able to become more active participants in developing positive habits, emotional intelligence, self-awareness, and confidence as they interact with others. Their goal is to promote holistic programming that shapes positive outcomes and emotional wellness for the entire family, while creating a foundation of socially responsible, healthy, successful community leaders for the future.

With the support of volunteers on Catchafire, curaJOY has saved an estimated $370,000 in project support. Bri's support on a new employee onboarding project saved over $5,000 and 22 hours in staff time.

"I enjoyed my time working with CuraJOY to help families and highlight the importance of emotional well-being. I worked alongside expert staff and volunteers to tackle challenges, improve systems, and nurture the JoyMaker community. I look forward to seeing how CuraJOY will continue to make a mark and am cheering them on!" -Bri T., Volunteer


---
Apply now to volunteer for:
Facebook Ads set up
Google Ads campaign support
Illustration
Online research
Social media content calendar
Tech systems set up
Video editing
Website major update
Website usability audit

---
Girl Now Woman Later, Inc. aims to increase the literacy rate, especially among girls, and to increase the graduation rate among females from middle school and high school in Burkina Faso, West Africa. Their programming focuses on issues such as gender equality, child marriage, and period shaming. They provide menstrual educational workshops, feminine hygienic products, and tuition assistance to underprivileged middle and high school girls. These resources are breaking down historical barriers to education and health.

Girls provided with these resources are more likely to stay in school and graduate, impacting the next generation as well. What happens in the earlier stages of education, such as elementary, middle school, and junior high, has a profound impact on girls' quality of life in the future. Staying in school lays the foundation for future leadership and professional opportunities for their careers and livelihood.

Thanks to volunteers on Catchafire, Girl Now Woman Later has saved close to $50,000 in project support.

Sarah volunteered for a website content audit project, saving the organization around $1,500, allowing them to provide more menstrual hygiene workshops, feminine products, and tuition assistance to underserved middle and high school girls in Burkina Faso.

She said, "Bienvenue [the Executive Director] was delightful. She was able to connect the issues of period supplies, which seem so small to us in the West, with the larger ones of self-determination."


---
Apply now to volunteer for these projects:
Elevator pitch coaching
Social media content calendar
Video editing

---
The mission of Good Journey Development Foundation is to support and build sustainable communities and young leaders who take responsibility for the improvement of their communities and who promote cultural understanding that contributes to the betterment of society.

Their programming includes community service projects, networking with community leaders, a Youth Community Garden, mental health workshops, professional development, art workshops with therapy and dialogue around culture and history, and youth organizing with a focus on racial equity. Their Summer Leadership Academy prepares young people for academic achievement by focusing on community service, STEM, career readiness, life skills, entrepreneurship, and social justice. Good Journey develops youth leaders and community builders through this holistic programming encompassing both the individual and the community.

Elizabet volunteered for a social media audit project, with the cost savings allowing the nonprofit to put more work hours towards youth staff for Good Journey's LIVE Black Youth Corps. Elizabet reviewed the current state of their social media pages and provided actionable recommendations on how to improve their online presence and engagement.

"Elizabet was great to work with. Communication was effective and timely and Elizabet provided additional information to the end product, setting our organization on a good pathway for change." -Dionne F., Executive Director

"Dionne was wonderful to work with! I was really happy to get to support such a purposeful and impressive organization." -Elizabet W., Volunteer


---
Apply now to help Good Journey Development Foundation with new employee recruiting. You'll provide support by creating a clear job description, a list of interview questions, and recommendations on the right recruitment platforms to attract the right candidates.

---
The International Girls Academy's mission is to unite, uplift, and empower through the instruction and practice of the Nguzo Saba. By embedding these principles into their everyday lives, they strive to create a positive and open-minded society. The International Girls Academy empowers girls to understand that they don't need a seat at the table; they can create their own. The organization's programming includes fellowships, education on business and content development, and study abroad opportunities. Through their programs, girls are better equipped for entering the workforce and long-term career development.


---
Apply now to support with:

Board responsibilities and structure
Social media content calendar
Video editing
Website user experience

---
Teens Thriving Together connects teenagers suffering from mental illness with resources that can help them receive guidance, understanding, and community. Their programming provides holistic programming including free therapy, networking with other young people, and mentorship to provide a foundation for students to heal, become empowered, and become leaders in their lives and communities.

Abbye provided advice on a one hour consultation call focused on brand messaging and generating TikTok content. Abbye said, "I really enjoyed talking with Nicholas [the Founder and CEO] and hearing more of his story that formed the brand's mission to connect teens struggling with mental health with resources to aid in their healing."


---
Apply now to volunteer for:

Facilitated strategy session
Storytelling
Web development support

---
The Friendship Factor is a summer day camp consisting of both neurotypical and neuro-divergent children, designed specifically to foster true diversity and inclusion while advancing social mobility and equity through shared experiences and peer support. By consulting with behavioral and occupational therapists, they've developed a program curriculum offering opportunities for natural environment teaching, social emotional development, physical activity, sensory play, and creative projects to encourage teamwork, mindfulness, self-confidence, and belonging. They foster friendships for those who need it most.

Chris, a freelance graphic designer, helped The Friendship Factor save $3,000 and 20 hours of staff time by volunteering for a branded digital assets project. He helped create compelling graphics to enhance their digital marketing materials and increase community engagement. The project savings allowed the organization to offer after-school programming through the 2022 year.

"It was great collaborating with Christopher. He has a great eye and understanding of our organization's mission and audience we are serving, and created multiple engaging, bright, and eye-catching graphics to tell our story and communicate our message effectively." -Denise L., President


---
Apply now to help The Friendship Factor get a social media account up and running with 4 weeks of scheduled content ready to post, and a content calendar template they can use for months to come.

---

The Village Method works to create a sustainable academic pipeline for underserved (K-16) Black youth. This grassroots organization's programming focuses on youth development, family engagement, and community outreach throughout South Alameda County, California. Their approach involves connecting youth and their families with local businesses, support services, institutions, and government, with the goal of academic achievement, career readiness, and socio-economic mobility.

The Village Method has saved almost $200,000 by working with volunteers on Catchafire.


---
Apply now to help The Village Method update their employee handbook. This project will save the organization $2,430, allowing them to provide free services to youth and families who otherwise would not have access.

---
Women on Change provides entrepreneurial project-based learning and generational mentoring to break the cycles of challenges for communities. Their mission is to understand strengths and collaborate with communities and individuals to solve challenges that fuel accountability.

Their approach involves investing in and training motivated and inspirational entrepreneurs, skilled mentors, and volunteers aged 18+ years, as they invest in 8-18 years old youth. Through their Lead and Earn program, participants are able to identify and implement one of their ideas, and bring them to life. Program participants receive coaching and mentoring, connections to a global network of entrepreneurs, build job skills around STEM, marketing, and fundraising, and earn money for the implementation of their idea.

Since posting their first project in May 2022, Women on Change has saved over $146,000 in project support thanks to the dedicated work of volunteers.

Sanja provided valuable advice on an organizational strategy call. One hour consultation calls are a great way to fit volunteering into your schedule and help nonprofits with specific questions and challenges.

Sanja says, "Jeanose is a smart and strong leader and founder of an amazing organization. Women on Change has an impressive mission and vision, and it was my privilege to talk to Lexima (Jeanose) [the Executive Director], learn about her organization and goals, and help them go forward and grow."


---
Apply now to help with a Board prospecting project, and review the organization's data to assess their current audiences to determine a shortlist of potential board members.

---
Support Youth Organizations by Volunteering on Catchafire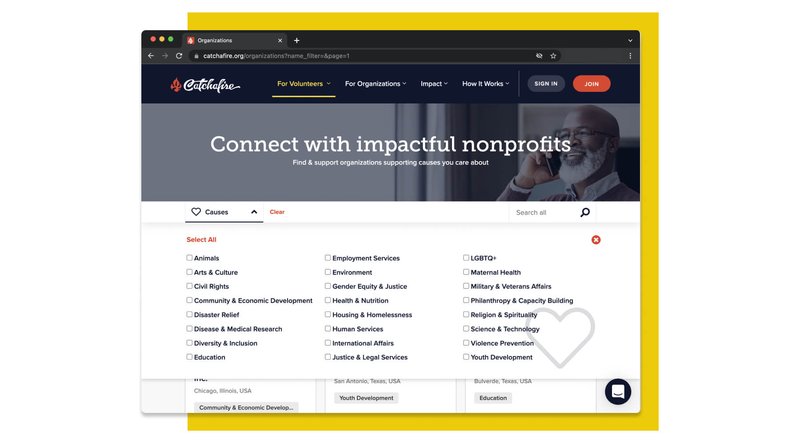 How can you contribute to the foundation of the next generation and young people?

Do you have skills in marketing, fundraising, event management, executive leadership, or graphic design (just to name a few areas of expertise)? If so, you could volunteer your time and talents to help a youth organization. Catchafire's platform connects volunteers with nonprofit organizations. The list above is a small sample of youth organizations to join and volunteer for; there are hundreds of opportunities! You can search for youth organizations that need help with specific tasks, or you can sign up to be a general volunteer.

Catchafire is a great way to give back to your community and have an involvement in helping young people find fulfillment and achievement of their goals. Sign up today and make a difference!

You can read more volunteer impact stories here and visit our blog for more volunteer and nonprofit spotlights.

If you're a grantmaker and would like to learn more about equipping nonprofits in your community with responsive, high-quality operational support, let's connect. Email us here.
Share this article
Copy the link, then close this window.