Jun 19th, 2023
10 Inspiring Volunteer Quotes to Empower You
What's volunteering with Catchafire like?
Volunteer quotes can be a great inspiration to get you to take the leap and finally volunteer. Here are some motivational volunteer quotes and stories from inspiring volunteers on Catchafire.


The importance of volunteerism


Since the beginning of the pandemic, nonprofits have faced an increased demand in services, without an increase to their budget and staffing. Nonprofits face an urgent question: how do they maintain their programming and operations? With an ongoing public health crisis and economic uncertainty, nonprofits have turned to volunteers for critical capacity support, needing them now more than ever. Skills-based volunteers help nonprofits keep their doors open, allowing them to focus on their mission, sustain their programming, and serve their community. Due to the transition to remote work, virtual volunteering is also an easy way to connect with nonprofit organizations throughout the world.

Catchafire connects virtual volunteers to local nonprofits, allowing them to make an impact from the comfort of their own homes. Catchafire personalizes volunteer opportunities based on skill sets and cause areas, allowing volunteers to contribute their time and talent to nonprofits and causes they are passionate about. There are hundreds of opportunities to choose from! Volunteers can give back to the community, all while building their own resumes, adding to their skill sets, and creating impactful, inspirational relationships with nonprofits and social advocates. Catchafire's network goes beyond the United States, connecting volunteers and nonprofits all over the world.

Who are our volunteers? Our inspirational volunteers on Catchafire have:
11 years of professional experience on average
Experience working with nonprofits (65%)
A Bachelor's or Master's college degree (over 80%)

Some of our most popular cause areas with open projects include:
Community and Economic Development
Diversity & Inclusion
Education
Health & Nutrition
Youth Development

Volunteering contributes to personal and professional growth, while collaborating with others to serve community needs and build a better world. To date, volunteers on Catchafire have donated over 1 million hours, saving nonprofit staff time and a total savings of over $210 million. It's an inspirational win-win for the individual and for the nonprofit!


The benefits of volunteering


Volunteering has several significant benefits, for the individual and the overall community. When thinking about volunteers, what will motivate them? Don't underestimate what even an hour of volunteering can do!

By volunteering, you can:
Build an inspirational connection with others: meet new people who share your interests, values, and passions
Give back value to your community: see an instant impact through your work
Improve your mind and body: build your physical and mental health
Advance in your career: develop your resume, skill set, and professional network
Gain knowledge of other ways of life: gain exposure to the philanthropic sector
Get out of your comfort zone: try something new!
Bring fun and fulfillment into your life

Experience these inspirational benefits firsthand when you sign up to volunteer on Catchafire!


10 inspirational volunteer quotes about volunteerism

Catchafire is driven by this quote from Martin Luther King, Jr:
"Life's most persistent and urgent question is, 'What are you doing for others?'"
We've compiled ten volunteer quotes from volunteers on Catchafire about their motivation to give back and their Catchafire experience.


1.
---
"I believe passionately in the importance of giving to the community. Where we have the skills and the ability to give our time – and somebody can benefit from that, well why not?"
Corinne T.
---

Corinne has provided support on brand messaging, event management, and marketing strategy through one hour consultation calls with nonprofits. After a marketing call with Paltown Development Foundation, Nancy S., the Volunteer Manager, said, "Corinne was so helpful — she walked us through every aspect of our volunteer outreach program plans and gave us tons to think about. We couldn't make this program a reality without her!"

2.
---
"Once the connection is made, it's so fulfilling to see the whole process and see the project have a real impact on people's lives. It makes you feel like you've done something right, and we all need a little bit of that in our lives."
Chetna B.
---
Chetna has saved nonprofits over $47,000 by volunteering to help nonprofits with setting up Google Ads. Read Chetna's story about how she is helping the environment, one project at a time.

3.
---
"I've never seen a program like this, and it's amazing. They give you a platform to help others in a way that maybe you wouldn't have…I'd done volunteer projects before, like painting and carpentry, but with Catchafire, I get to do things that I'm actually good at."
Corina B.
---
Corina is a lawyer with a specialization in international law, and currently studying to be an English translator. She's helped nonprofits save over $56,000 by providing support on translation projects. For example, Corina provided support on a translation project for The Bay Foundation, saving The Bay Foundation over $7,000 and 30 hours of staff time – allowing them to increase engagement and develop a healthier community garden.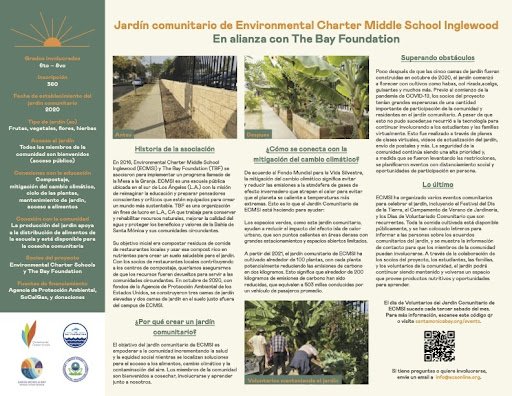 4.
---
"Catchafire helps wake up my brain from the finance world where I work, and has allowed me to talk to nonprofits across the globe and gain portfolio experience while building skills in other industries."
Krista H.
---
Many volunteers tell us they turn to Catchafire to find fulfillment outside of their current jobs, and have a way to give back to the community. In exchange, they're able to pursue passion projects, build up their resumes and skill sets, and gain exposure to the philanthropic sector.

5.
---
"Catchafire is an awesome site to volunteer as a graphic designer with great organizations to work with. This project for BUILD NYC was a great starter project for me as I learned to navigate the site and the realm of freelance work. A day hasn't passed that I am grateful for the gift I was given, the passion I have, and the opportunities placed before me. There will always be more to come!!"
Francisco R.
---

Francisco helped BUILD NYC with a document template design project, saving the organization 10 hours of staff time and close to $2,000. Since then, he's worked on 16 other projects, bringing his total impact to nearly $84,000.

6.
---
"It has been a huge blessing to be a part of Catchafire. I've always felt like I wasn't making an impact. I've always wondered how could I make an impact, what is it that I could do? Catchafire gives me a way to do that. And not in a way where it's so taxing. I'm still able to run my company, be profitable, and give back to organizations that I probably never would have heard of. Organizations that need to be spotlighted because they do great work. There are a lot of smaller grassroots NPOs that need our help more so than one that can afford to hire a copywriter or someone to design their website. I love what you have created and how it helps us as professionals. People look at what I've done on Catchafire, and are like 'Wow, I did that'. I don't want a nonprofit to miss out on what they deserve just because they can't afford to hire me."
LaKisha M.
---
As a founder of her own event planning and management firm, LaKisha has lent her talent to nonprofits on Catchafire, supporting projects related to event planning, logistics, and management, with an impact value of over $59,000.



7.
---
"I learned about it [Catchafire] through LinkedIn. I think there was an ad posted- "ways that you can get involved despite being in the pandemic". The platform was extremely easy to navigate and after my first 1-hour project, I was hooked!"
Myrna G.
---

An experienced professional with over 8 years of fundraising experience, Myrna has helped nonprofits with a variety of projects, such as donor letters, fundraising plans, event management, and organizational executive summaries.
She also provided support on a number of fundraising calls with various nonprofits and cause areas: "Myrna was extremely friendly and direct. Myrna has a wealth of knowledge, especially with direct effective methods on fundraising and how to engage our community." - Michael T., Chairman, Caribbean American Cultural Arts Foundation

8.
---
"One hour calls are great because you can give advice. I felt like I could really provide a service because I was getting groups in these one hour calls where they're just starting out, they'll post on the browse project page and say, 'we're getting ready to do a strategic plan, what should we be thinking about?' Those calls are always about thinking at a 30,000 foot level to take the next step to do the project."
Larry K.
---

A consultant with decades of experience in the public sector, Larry has volunteered for 174 projects to date, collectively saving nonprofits over $86,000! He focuses specifically on providing one hour consultation calls and guiding new organizations on a wide variety of projects, including marketing strategy, organizational strategy, PR, and brand messaging.

9.
---
"I am thrilled to be sharing my skills with organizations on Catchafire! My background includes experience in marketing, communications, web development, social media, fundraisers, branding, and nonprofit management. I hope to be able to share a wealth of knowledge with organizations...You can count on me not only to help you with your project, but to leave you with the knowledge to succeed in the future. Catchafire's mission of matching valuable skills to organizations in need appeals to me as an opportunity to give back."
Tyler V.
---

Since signing up on Catchafire in June 2020, Tyler has volunteered for 114 projects with a total impact of $336,000 - and the number continues to climb! He's provided pro bono expertise on social media, Google Ads and Analytics, websites, brand guides, tech systems, and more.

10.
---
"Some of the biggest draws of Catchafire was that you can make an impact from home, that there are so many remote opportunities to volunteer, and that there are so many varying project lengths...I really love working with the different nonprofit partners I've met through Catchafire. I've met some really cool people that I'm now still working with outside of Catchafire."
Aja B.
---

Aja signed up to volunteer on Catchafire at the beginning of the pandemic, looking for a way to give back, find fulfillment outside of work, and support nonprofits in a way that was COVID-safe. Since signing up, she has provided critical, virtual support to nonprofits around website updates and time management coaching, with a total impact of almost $12,000. In a volunteer survey, over half of respondents shared they stayed involved with the nonprofit beyond the initial match. A majority of volunteers join organizations as repeat volunteers, in advisory roles, or as donors or Board members.

Volunteer quotes like these motivate us at Catchafire as we continue our mission-driven work to support nonprofits and their communities.

---
Here's a bonus inspirational story for your day:
Skilled digital marketing strategists, Armand and Nathan went above and beyond, bringing their skills together to develop online educational programming for nonprofits on Catchafire. The duo created a webinar providing a Google Ads overview for beginners, walking nonprofits through grant eligibility, how to apply for Google Ad Grants, and best practices to manage Google Ads.



These inspiring volunteers also created a comprehensive suite of resources for nonprofits to review after the seminar, with a number of guides on ad compliance, creating campaigns, and other helpful tips and advice. Armand and Nathan's volunteer work on Catchafire has collectively saved organizations over $400,000, helping them expand their audiences and increase donations through online advertising.


---
Volunteer with Catchafire

Motivated by these inspiring volunteers and volunteer quotes? You can become one of them by signing up on Catchafire today! Sign up for one-hour consultation calls or full-length projects based on your availability and skill set. You can provide support in a wide variety of critical department areas such as marketing, fundraising, finance, IT, HR, graphic design, and more. Your support makes a direct, instant impact for nonprofits and the communities they serve. It's a virtual volunteering experience unlike any other.

If you're a grantmaker and would like to learn more about equipping nonprofits in your community with responsive, high-quality operational support, let's connect. Email us here.
Share this article
Copy the link, then close this window.