Mar 14th, 2022
Introducing CatchafireNoir, Catchafire's Black-identifying Employee Resource Group
Meet the incredible employees in CatchafireNoir.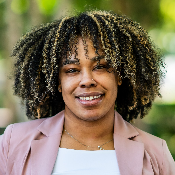 In 2020, Catchafire launched three Employee Resource Groups (ERG) that aim to raise awareness of issues facing people of a specific demographic, race, religion, or sexual identity. Through these ERGs, Catchafire seeks to amplify diverse and marginalized voices within our organization to promote professional and personal growth, while providing spaces for our team members to share ideas, discuss difficult topics, serve as a sounding board to our executive team on key decisions, and encourage each other to bring their whole selves to work everyday. We now have ERGs for 1) Black-identifying employees, 2) members of the LGBTQ2+ community and 3) employees who identify as women.

CatchafireNoir is an ERG for Black-identifying employees and contractors at Catchafire. Within just two years from its inception, CatchafireNoir has become a notable place of refuge, fellowship, and support for Black employees and contractors.

Each ERG is petitioned to lead an organization-wide activity at least once a year. During Black History Month 2021, CatchafireNoir distributed a Black-owned Business Book that included a curated list of coveted Black-owned businesses. During this past Black History Month, Catchafire co-leader, Latesha Kelly, saw it as an opportunity to take a different approach to highlighting Blackness in America through a video documentary screening.


---
"Oftentimes, the people we work with who do not identify as Black, see us, their colleagues, as different from the Black people they see out in the world. The truth and reality is, we are no different from them, we are not the exception, we are those people, those people are us, those are our brothers, our sisters, our children, our friends, and family–because what makes us the same is our Blackness. Non-Black identifying people perpetually struggle with understanding our plight and experiences, and therefore lack the empathy and ability to see us as human beings. Our hope is that this piece will portray the humanity in Blackness and its many facets."
Latesha Kelly
Co-leader, CatchafireNoir
---

CatchafireNoir's current co-leaders are Latesha Kelly (she/her), Senior Associate, Email Marketing, and Hijrah Hamid (they/them), Senior Associate, Events & Engagement. Learn more about them here.


---
Watch: CatchafireNoir Documentary
---
Share this article
Copy the link, then close this window.